Soft Serve Machines - Taylor | 772
Fast Shipping
Orders placed by 3pm PST
will be shipped the same day
Soft Serve Machines - Taylor | 772
Taylor Model 772
Features
This unit is a Beast! Taylor rates this machine for (428) 3.5 oz. servings per hour - per flavor!
Offer all the popular soft serve variations from low or non-fat ice creams to custards, yogurt and sorbet in two separate flavors.
Freezing Cylinder Two, 7 quart (6.6 liter).
Mix Hopper Two, 20 quart (18.9 liter). Separate hopper refrigeration (SHR) maintains mix below 41ºF (5ºC) during Auto and Standby modes.
Indicator Lights Add Mix light alerts operator to add mix.
Solid State Controls Thermistor control precisely monitors temperature to maintain consistent quality.
Standby During long no-use periods, the standby feature maintains safe product temperatures in the mix hopper and freezing cylinder.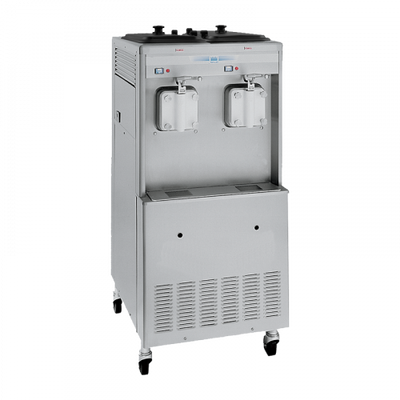 Sorry, there are no products in this collection

We're the Experts
Ask us anything. We are the professionals!

Fast Shipping
Orders placed by 3pm PST will be shipped the same day.

Largest Selection
If you don't find the part, we'll get it for you!