Soft Serve Machines - Taylor | C717
Fast Shipping
Orders placed by 3pm PST
will be shipped the same day
Soft Serve Machines - Taylor | C717
Heat Treatment System Provides a daily heating and cooling cycle to safely maintain dairy products up to two weeks before a complete disassembly and cleaning is required. Offer all the popular soft serve variations from low or non-fat ice creams to custards, yogurt and sorbet with the commercial Taylor C717 soft serve machine. This model serves two separate soft serve flavors or an equal combination of both in a twist. This top of the line Taylor model C717 Heat Treatment machine is constructed with heavy-duty materials for long lasting durability, and reliability.
The Taylor C717 is rated for 284 3.5oz. servings per side, per hour. This used soft serve machine model comes equipped with two, 3.4 quart freezing cylinder and holds 40 quarts of mix (10 gallons) in the refrigerated hoppers (20 quarts each side) to serve large crowds. When the machine is empty, indicator lights turn on to alert the operator. When the "Mix Out" light flashes, the unit is automatically shut down to prevent damage. Digital readout displays hours since last brush cleaning to assure product safety.
For more information on our used soft serve machines for sale, feel free to give us a call or browse our selection of Taylor C717 soft serve machines below!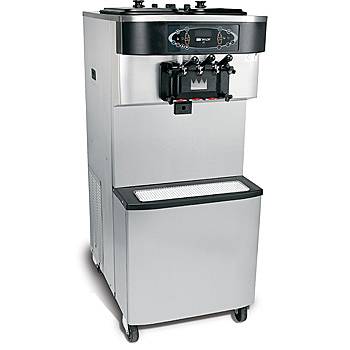 Sorry, there are no products in this collection

We're the Experts
Ask us anything. We are the professionals!

Fast Shipping
Orders placed by 3pm PST will be shipped the same day.

Largest Selection
If you don't find the part, we'll get it for you!