Soft Serve Machines - Taylor | C712
Fast Shipping
Orders placed by 3pm PST
will be shipped the same day
Soft Serve Machines - Taylor | C712
The Taylor C712 is the highest output machine in the Taylor Soft Serve line up. This pressurized workhorse is capable of over 800 servings per hour. From low or non-fat ice creams to custards, yogurt and sorbet with the Taylor C712 soft serve machine. Serve two separate soft serve flavors, or an equal combination of both in a twist. The Taylor ice cream machine C712 is rated for 426 3.5oz. servings per side, per hour. It comes equipped with two, 3.4 quart freezing cylinder and holds 40 quarts of mix (10 gallons) in the refrigerated hoppers (20 quarts each side). Indicator lights alert the operator to add mix. When the Mix Out light flashes, the unit is automatically shut down to prevent damage. Digital readout displays hours since last brush cleaning to assure product safety. During long no-use periods (overnight), the standby feature maintains safe product temperatures. Specifications Electrical Two dedicated electrical connections are required. See the Electrical chart for the proper electrical requirements. Beater Motor Two, 1.5 HP. Refrigeration System Two, 9500 BTU/hr compressors. R404A Separate Hopper Refrigeration (SHR), One, 400 BTU/hr. R134A (BTUs may vary based on application.) Air Cooled Minimum 3" around all sides. Minimum air clearances must be met to assure adequate air flow for optimum performance. Water Cooled Water inlet and drain connections out of rear 3/8" FPT.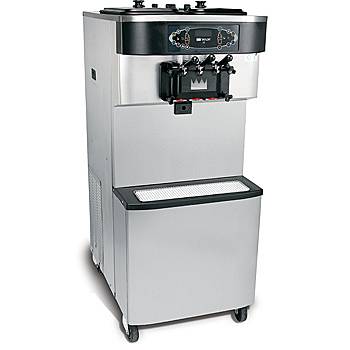 We're the Experts
Ask us anything. We are the professionals!

Fast Shipping
Orders placed by 3pm PST will be shipped the same day.

Largest Selection
If you don't find the part, we'll get it for you!